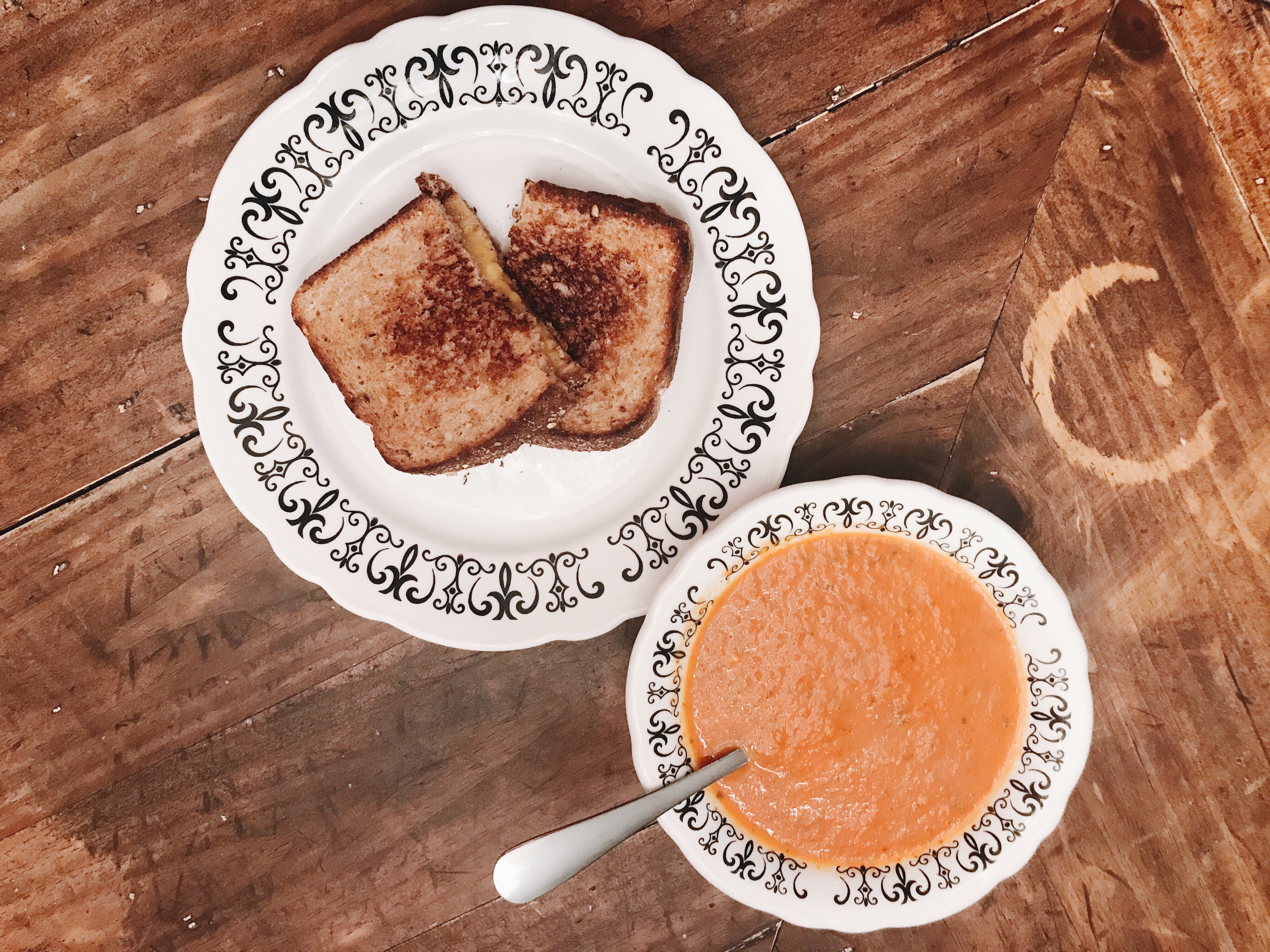 15 Feb

Tomato Soup

This has become my go-to winter recipe.  SO GOOD.  And pretty.  Yum!  It's the perfect day to make it!

We were having people over for lunch and I had this fabulous idea to do a grilled cheese bar with a few different soups.  I thought the grilled cheese "bar" would make it seem a little fancier than just soup and sandwiches.  So….I bought a bunch of different breads and cheeses and made a few kinds of soup.

Somehow Sean got the job as Sandwich Bar Attendant.  He didn't think my idea was quite as fabulous.  I guess I failed to mention that we had about 30 people here.  Making 30 custom grilled cheese sandwiches wasn't as easy as I thought.  He was getting just a tad bit testy.  Oops.

But the soup was really good.

I got this recipe from The Barefoot Contessa, but I am a really lazy cook, so I made a few changes.  I LOVE those dried minced onions.  I use them on everything.  Ain't nobody got time for chopping and sauteing onions, especially when 30 people are on their way.  Plus they make me cry.  I know, real cooks, I know.  Also, I didn't have red pepper flakes, so I used Tapatio to give it a little kick.  My substitutions are in parentheses.  I promise they're good.  People ask for the recipe every time I make it!

TOMATO BASIL SOUP

3 lbs. plum tomatoes, cut in half lengthwise

1/4 cup olive oil

1 T. salt

1 1/2 tsp. black pepper

2 cups chopped yellow onions (Insert dry minced onions here.  Remember, I'm lazy!)

6 garlic cloves, minced (Oh yeah, I used the minced stuff in a jar.  Keepin it simple, people.)

2 T. unsalted butter

1/4 tsp. crushed red pepper flakes (or a few dashes of Tapatio or Frank's Red Hot…I've done both.)

1 28 oz. can plum tomatoes, with their juice

1 tsp. fresh thyme leaves (I used dried.)

1 quart (4 cups) chicken stock or water (I've used both, and they are both good!)

I am going to give you the directions that I did.  It's just slightly different.

Toss the tomatoes, olive oil, garlic, salt and pepper together.  Roast them on a baking sheet for 45 minutes at 400 degrees.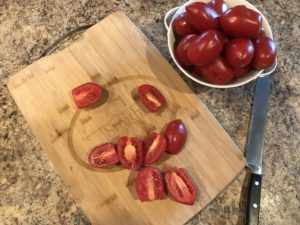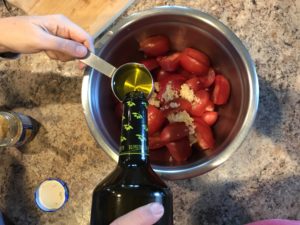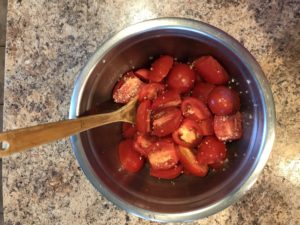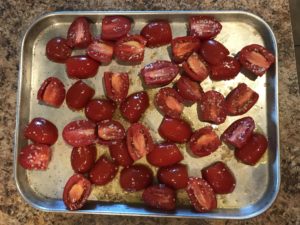 Put the tomatoes with all their juices in 8 quart stockpot, along with all the other ingredients, and simmer uncovered for 40 minutes at medium heat.
Here's the fun part…I love my immersion blender!  Blend it all together, make sure you taste it and add any salt or extra hot sauce!  Done!  Yum!  You can add sour cream or croutons, or even better…grilled cheese!  You could probably even hire Sean to come over and make them.  He's really good at it.