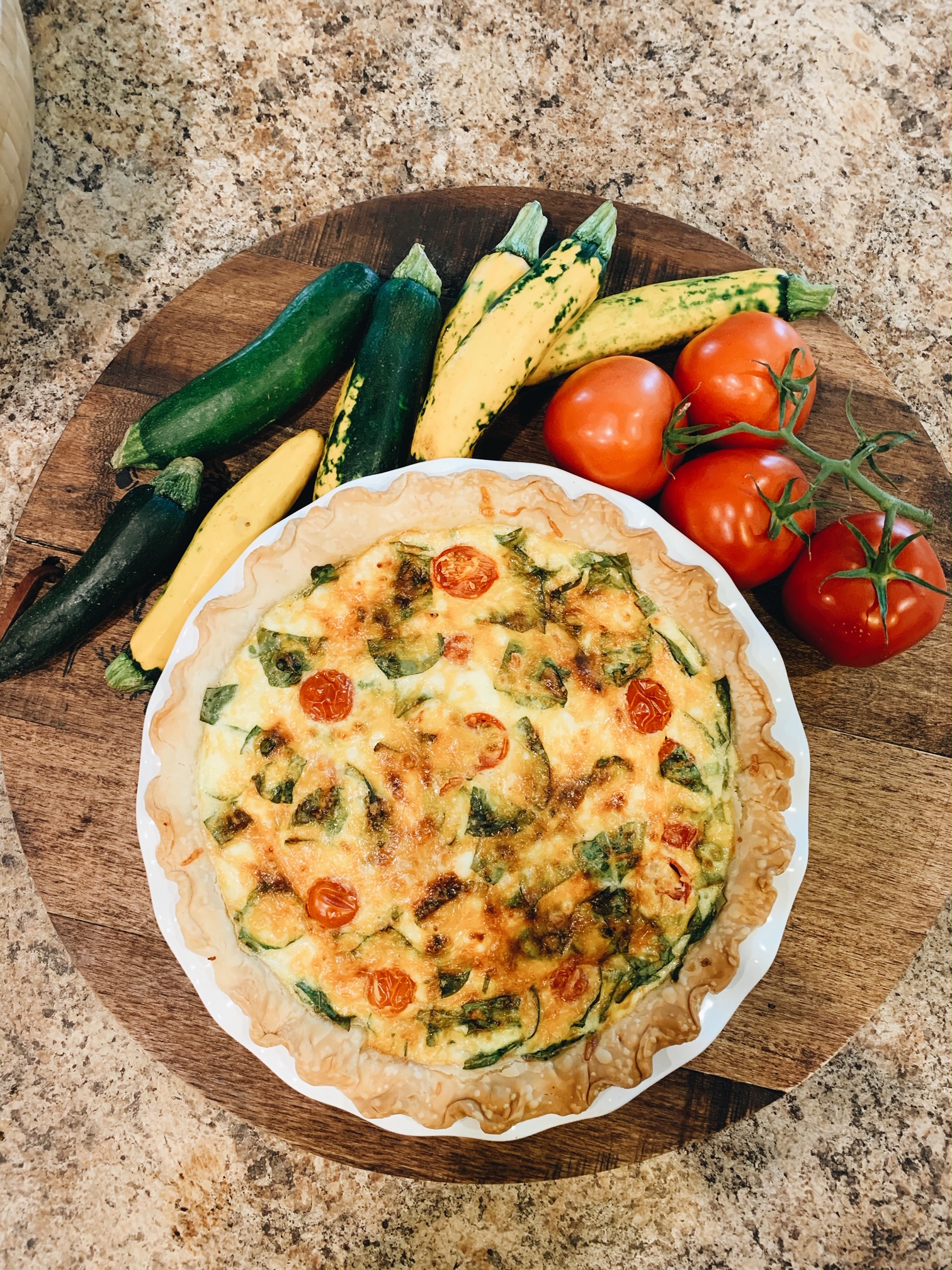 07 Apr

Real Men Don't Eat Quiche
"Yeah, you got that yummy, yum

That yummy, yum

That yummy, yummy…"

-Justin Bieber
Real Men Don't Eat Quiche.  Where did that quote come from? Who knows, but Sean eats it and I think he's pretty manly!
I just wanted to share this recipe with you. I LOVE making quiche. It's the perfect breakfast when you have guests. I usually make a couple different kinds and serve it with fruit.
I pretty much have an egg mixture that I always use, then I add all different ingredients. Now, I've had quiches that are super soft, runny, and custardy, but that's not how I like it. I've tried several recipes. I always add more eggs and less half and half to make it a little firmer. Maybe the French would not call it quiche, but it sounds fancier than saying Egg Casserole in a Crust. Whatever. It's good. Try it. I promise.
The first quiche that I ever made was Sausage and Cranberry. Yum. It's still good, especially in the fall. The one I make most frequently and probably my favorite is spinach, tomato, onion, and sausage. My kids like plain old sausage and cheese. I've done ham and Swiss, veggie quiche, Greek quiche….you get the picture.
If you've read my other posts you know I'm a lazy cook, so I usually use those refrigerated crusts. If I don't have one and am too lazy to get dressed and go to the store, I make my own. It's good either way.
So…here we go….
QUICHE
1 pie crust
Filling ingredients:
-8 oz. cooked sausage, ham, or bacon (I don't really use bacon because I think it should be crispy, but you do you!)
-1 1/2 cups (or a little more if you're feeling it…up to 2 cups) shredded CHEESE!  I really think any kind is good.  Swiss, jack, cheddar, etc.  I've also used part feta or gorgonzola;  you need some meltier (melty-er?) cheese to help hold it together.  Am I even making sense?
-vegetables…broccoli, spinach, tomatoes (I use halved cherry tomatoes unless they're tiny and then I throw them in whole), zucchini or other squash, green onions, peppers, mushrooms, etc.  Use your imagination!  You can also use any fresh herbs.  Yum!
7 large eggs
1 1/4 to 1 1/2 cups half and half (or I've used milk…just use a little less)
1/2 tsp. salt
dried minced onions (as per previous post…I love these and use them in everything)
Prepare your crust in a 9 inch pie plate.  Layer your meat and cheese in the crust, then add vegetables, cut in bite-sized pieces, until your crust is a little more than 3/4 full.  I always take a fork and mix it all together a little so you don't end up with all the meat and cheese at the bottom.  Then sprinkle a decent amount of the minced onions over the top.  They give it a good flavor, but aren't crunchy like real onions.  Pour the egg mixture over the top.  I usually then mix it up again with a fork so the egg gets all down in there.  I usually throw a few strategically placed tomatoes and spinach on top so it looks pretty.  Food is art.  I think I've heard that somewhere.  Cover your crusts with foil or they will surely turn very dark brown.  Bake at 425 degrees for 35-45 minutes, or until completely set (doesn't jiggle) and golden brown on top.  It's really quite beautiful when it comes out of the oven.  Let it set for 10 minutes or so before you dig in.  You can also serve it at room temperature if you prefer.
As you can probably tell, I am not an exact cook.  I add more of stuff I really like, and less of the stuff I'm not crazy about.  You can omit an egg if you like it softer and creamier.  You can really be creative and throw in anything you want!
For sausage-cranberry quiche, I use 8 oz. sausage, 3/4 cup Craisins, and jack cheese.  You can also throw in some fresh sage.  So good!
Please try it and let me know what combinations you made.  I love new recipes!