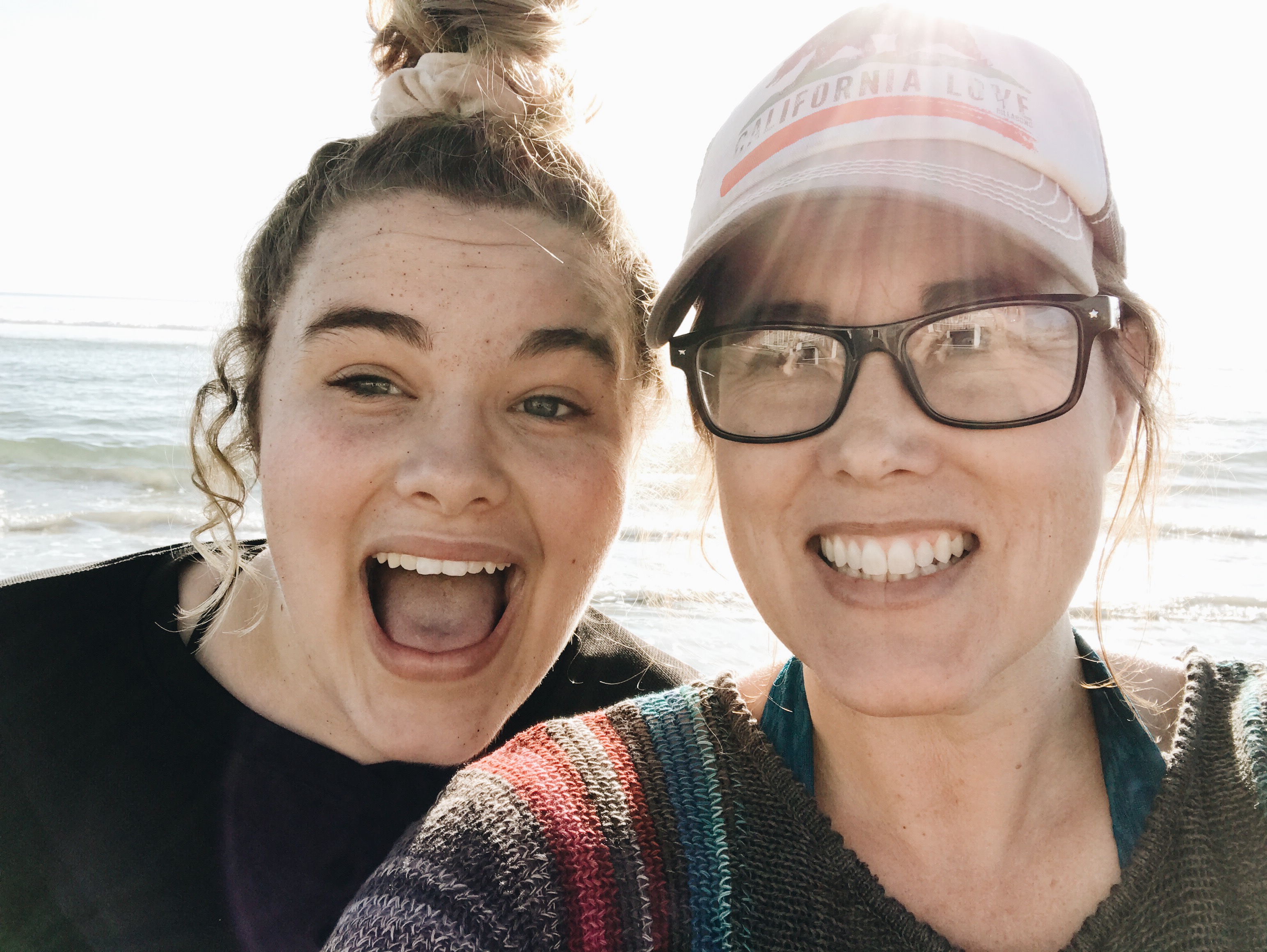 08 Feb

Allison Went to College, but I Learned Stuff Too

Another turning point, a fork stuck in the road
Time grabs you by the wrist, directs you where to go
So make the best of this test, and don't ask why
It's not a question, but a lesson learned in time
It's something unpredictable, but in the end it's right
I hope you had the time of your life

-Greenday

UPDATE 2020:  Now I have TWO college students and one High School Senior.  This stuff never get easier!  But, with everyone having just gone back to college after Christmas break, I needed to remind myself of these things!  I read through it and it's still true!  And it's still so hard to let go.

Kate, Emily, and I just got back from visiting Allison at school in San Diego.  We had SO. MUCH. FUN!  I love these girls and there is nothing better than when we're all together…especially on the beach, at the pool, at the mall, riding bikes, with acai bowls and donuts.  Hopefully the acai bowls counteract the donuts!  And yes, we did miss Sean.  We really like him too!  It's so hard to leave her there, but I was thinking about some things I've learned in the last 6 months about sending your kid away to college.
 She is ok without me.  She is actually doing more than ok.  She is thriving.  She's having the time of her life.  She is growing in her faith.  She has a ton of amazing relationships.  She is figuring out how to be even more independent than she was when she lived here.  She even does laundry!  I know, right?!  She also has taken one psychology class and tried to psychoanalyze all of us.  I keep reminding myself that this is what we raised her to do.
I am ok without her.  Ok, being completely honest, I wasn't really ok at first.  I keep wondering how THIS is the reward of 18 years of parenting.  It hit me that she wasn't going to live with us anymore the day we moved her in to her dorm room.  We were leaving for the night and were coming back for Orientation stuff the next morning.  I lost it.  Emily said, "Can't you at least wait until we get in the car?"  I couldn't.  She texted Allison and said she'd text her when I stopped crying.  It was a while.  They went to the pool, made s'mores by the fire, watched a movie.  I'm saying…it was a while.  It was definitely "ALL THE FEELS."  So many emotions….unbelievable pride in who she was, excitement, disbelief at how quickly this moment had come, thankfulness that God had brought us to this point, sadness, and the list goes on.  Ok, now I'm crying again.  I wondered if I would constantly worry about her.  I really don't.  I know who she is and I trust her.  I pray a lot!  I am ok because she is doing what God has called her to.  It actually is really fun to watch her become this amazing young lady.
We did a better job than we thought.  Parenting is not easy.  So many days I feel like a failure as a mom, but watching her become an adult and go out on her own, I think we did ok.  She knows our hearts and what's important in this life.  She is amazingly confident in who she is and whose she is.
It's worth it.  Everyone asks me, "But isn't it expensive?"  Yes.  The answer is yes.  It is expensive.  But we prayed a lot, weighed the costs, prayed some more, and made a value judgment.  What she is experiencing is priceless and worth every penny we have to pay.  We don't think it's for everyone.  But this is the decision that we felt led to make.
I appreciate my other 2 a little more.  You guys, time goes fast.  I think it's hard to grasp until it happens.  I have a little different perspective now.  Kate is graduating this year, and Emily in 2 years.  I want to hang out with them as much as I can and enjoy these years while they're still home.
I am old.  You guys, I went to Parent's Weekend at a college.  AS A PARENT.  It wasn't that long ago that I was in college, right?
It is so fun to visit her. I guess it helps that she goes to school in San Diego.  It is the best.  I love meeting her friends.  Every time we see her I can't wait until the next time!
God loves her more than I do.  I knew this, but it has become much more real to me.  I love 2 Timothy 1:12 "I know the one in whom I trust, and I am sure that he is able to guard what I have entrusted to him until the day of his return."  My prayer is that she has the courage to do what God has called her to and that I have the courage to let her.  I believe that God is faithful and that he has a plan for this amazing girl.  He's going to be with her every step of the way.  Change the world, Ally-girl!
Our relationship has changed.  We've always had a good relationship, but she is in fact a strong-willed teenage girl.  So there's that.  The good stuff is a little better.  I love when she calls or FaceTimes us.  I love when she posts stuff on Instagram.  I love that she and the girls do their homework together over FaceTime.  I love that she sends videos on our family group chat.  I love that Sean sends hoverboard videos to her.  I love when she calls and asks me where the hangers are in Target.  I love to hear anything about her classes or her friends or what she's doing and learning.  The bad stuff, like the sibling fights or the "clean your room/do your homework" frustrations are basically forgotten.  Well, at least until she comes home and throws her stuff everywhere or gets back into the "living with her sisters" routine.  But it's all good stuff.
God is faithful in every season of life.  This I do know, change is hard. But I know who I believe in and am absolutely sure that he is able to guard what I have entrusted to Him and what He has entrusted to me.  Please remind me of this in May when Kate graduates.  I might need some serious moral support.