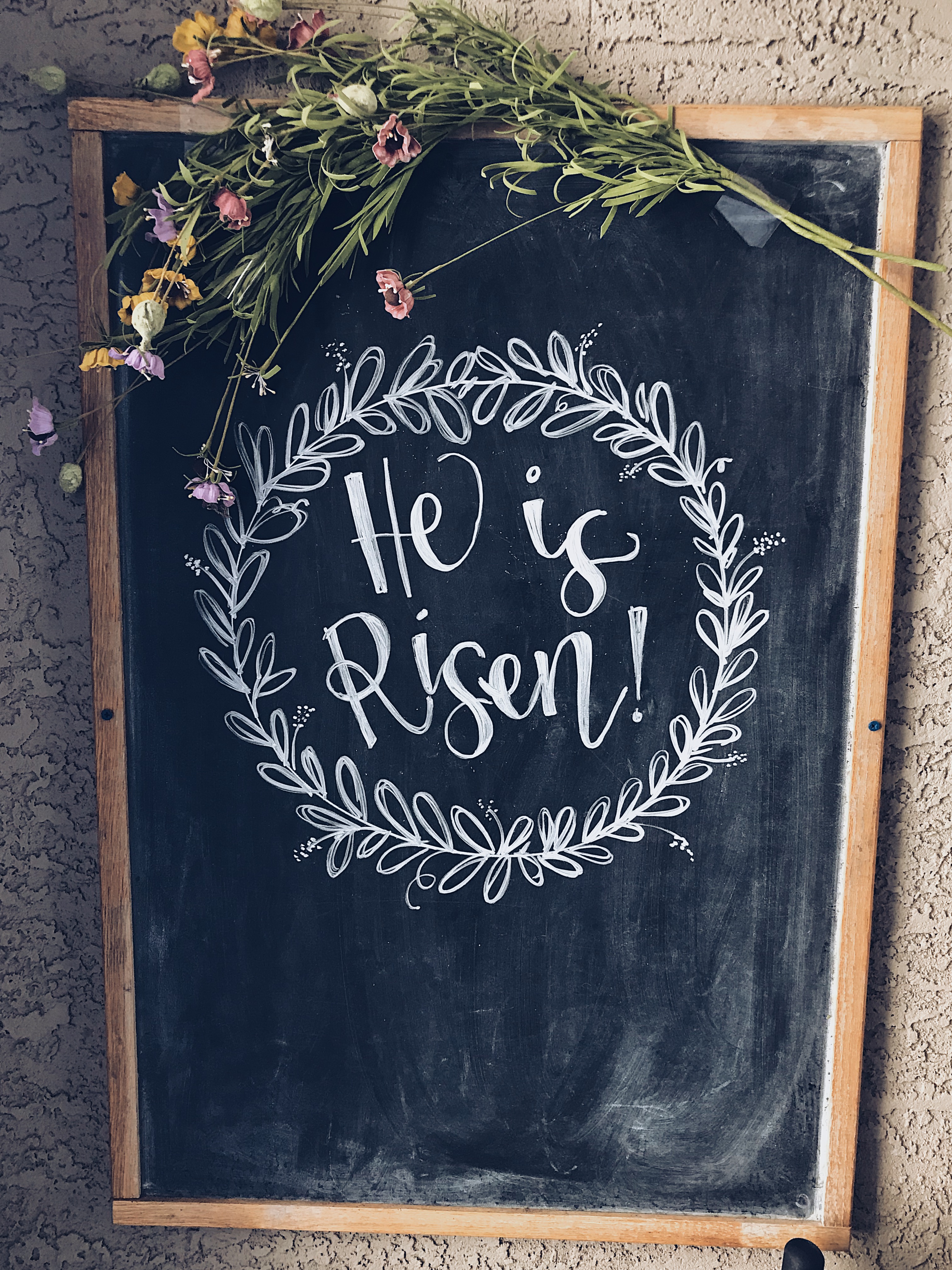 29 Mar

Let's Celebrate! It's Easter!

Allison knows every song and every word to every song imaginable. She claims to find "the next big song" before the rest of the world. She is so like her dad. Well, she found this song… Watch HERE!

I'm not so sure it's the next big thing, but you should hear it once in your lifetime. Ok, maybe not. Sorry. You can never un-hear that.

Easter…Bunnies, flowers, chocolate, dyeing eggs, jelly beans, Peeps…I love those things, well, except for Peeps. They're gross. And jelly beans, unless they're buttered popcorn Jelly Bellies. I love those. My sister and I swear we saw the Easter Bunny look in our window when I was about 10. I'm still not convinced that we didn't.

But what does Easter really mean and how should my life look different because of Easter? Easter is such a life-changing event, but sometimes I'm too busy eating Reese's peanut butter eggs and take it for granted or forget as I go about my day.

I believe with everything in me that Jesus lived on this earth, died on the cross, and rose from the dead to save me from my sins. I believe that Jesus is the way, the truth, and the life. It should make a difference in how I live.

Because of Easter I have hope and reassurance that this world is not my home. There is so much sadness, death, conflict, and pain in this world. But I'm only here for a short time. My citizenship is in heaven. Thank goodness. This world is not all there is for me, my family, or for you.

Because of Easter, death is not the end. "Do not be afraid of those who want to kill your body; they cannot touch your soul." Mt. 10:28 and "Death, where is your victory? Death, where is your sting?" 1 Corinthians 15:55. As a believer, death is the beginning of life living in the presence of God. Our friend and pastor, Greg, passed away 2 years ago. I think about his words all the time. He believed that God could heal him, but if he didn't, "Greg Wins." Greg won. He is where God created him to be. I am thankful that I believe in a God who is so beyond me that I can't understand Him. Imagine if he only thought the way humans do.

Because of Easter, I can live without fear. "If God is for me, who can be against me?" I trust in the one who created me and his understanding and perspective is so far beyond me. When we hear and see so many horrific things going on in the world, it is so easy to be paralyzed with worry and fear. Sending your kids off to school, something we do every single day, should not give us a panic attack. I don't claim to understand why these things happen, but I know who's behind it and I know who ultimately wins.

Because of Easter, the things of this world are not the things that make me who I am. I am not who I am due to the number of likes on my Instagram posts, what I look like, what grades my kids get, what college I went to, the number of schools my kids got accepted to or the amount of scholarships they get. Can you tell we're in college mode around here? Yikes! My worth does not depend on the amount of money I make, how many friends I have, or what my husband does. I should find my worth in knowing that the Creator of the Universe loves me and saw fit to send his son to die and rescue me. Why do I forget this all the time?

Because of Easter, I have a purpose. My life should not be about me. It should be about pointing people to Christ and making Him known. Really that's all that matters. I can make your house look cute or bake some dang good chocolate chip cookies, but that's not going to change your life for eternity.

So, let's celebrate! This is VERY good news! In the words of the great philosopher Macklemore,

"I feel glorious, glorious
Got a chance to start again
I was born for this, born for this
It's who I am, how could I forget."

Happy Easter!